Advanced RGSS3 Console
Version: 0.3
By: Berka
Introduction
I think the addition of the console has been the greatest feature of RMVX Ace: super handy for debugging scripts.
And that's why I could not resist the urge to customize this wonderful tool.
Features
Syntax highlighting,
Gets method,
Line numbers,
Simple color changer
Screenshots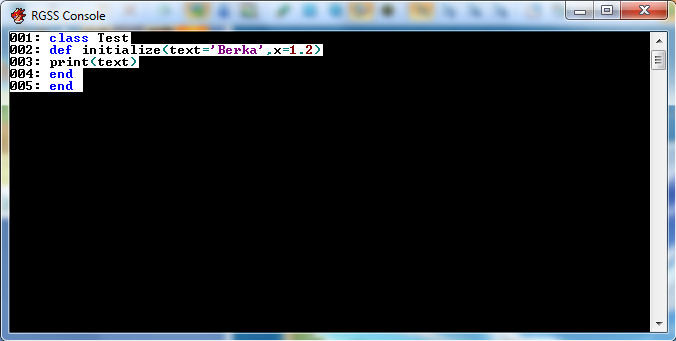 Script
Instructions
Paste this script above Vocab. Only the method Kernel#puts is modified. It enables the syntax highlighter:
Kernel#print is not modified and it allows to color each line separately.
The list of colors is mentionned at the beginning of the script.
Compatibility
No issues known yet.
Credits and Thanks
All thanks go to the Msdn reference.
Terms and Conditions
This script is free to use. Credits are not mandatory, but it would be very nice of you to quote me.
Please ASK me before posting this script anywhere
. Because of that I can help you to use this script.
Best regards,
Berka