I've been thinking a lot lately about Spirit from the medieval understanding. The idea is that souls are incorporeal so they use spirit as a medium to influence the physical world. It's kinda where the idea of ecoplasma come from. If you've seen Ghostbusters II, there's this river of pink slime running beneath the city. A property of this slime was that it amplified emotions, both positive and negative. The movie climaxed in a nice metaphor, where they animate the Statue of Liberty using the slime to penetrate Vigo's lair. Liberty vs Tyrany, get it?
Where did the Slime come from? That's going back to the first movie. It was a cult who built the apartment building as a gateway for their god. The slime running beneath the city was suppose to help it crossover. Again, it's used as a medium. This slime functioned like spirit and was essentially ectoplasma, but it was refined from black slime produced by a demon thing called a Sloar. That's featured more in the video games.
The difference between the "mood" slime and the black slime, is that the Black Slime was caustic, corroding/corrupting like demons do.
It's interesting that the black slime is "caustic" because if you get into Alchemy, you're talking about salts and sodas. Salts were conceptually the leftover matter after the elements, or spirits, were extracted from it. The Gnosis in Xenosaga, which is full of references to alchemy, would turn humans into salt on contact. The Gnosis were essentially a caustic blob of of human souls.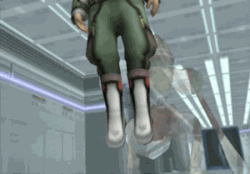 One practical application or product of caustic material is Lye.
Did you know? It used to be a common practice to just toss the bodies of the executed into a pit of lye where they'd dissolve into goo within a few hours. For whatever reason, we don't do that anymore, even though it's more environmentally friendly than cremation. Have you ever wondered why Slime Monsters inhabit prisons in Fantasy RPGs? Well, there you go.
We still do it with horses. I'm referring to "the glue factory". Not just horses mind you, anything with collagen makes good glues. Collagen being a connective material. A bonding agent. I'm still talking about spirit btw, so please
stick
with me.
A quick fun tangent; my sister refused to eat jello for a while after learning that gelatin is made from "horses". Nightmare fuel. Ha! Get it? Nightmare? Mare? Made from horses. But seriously, imagine if we recycled all our dead into food. Unsettling. But then again, I've always wondered how these old great civilizations sustained themselves. It makes me wonder what these concepts of reincarnation are
grounded in
.
Back to spirit. What else holds us together? Gravity! Everything pulls on everything. No matter how small or far away, there is some sliver of force between 2 objects. I think it's fascinating that cultures have some notion of the monad, the one, the source, a singularity that we will all return to. Maybe ancient civilizations were more advanced than we give them credit for. There's some really esoteric stuff between our sun and sirius being in a binary system that I won't go into.
I had often wondered what made Yoga a spiritual practice, but then I saw a diagram illustrating how your center of gravity shifts as you do different poses.
Now let's look at Steven Universe and the Mary Sue power levels that are Rose Quartz aka Pink Diamond. Healing Waters of life. Gravity manipulation. Soul transference? It seems like a random set of power until you think of it as a function of "spirit".
I think the ultimate goal of the series plot is to heal the corrupted gems. Which got that way because Rose/Pink told a lie. Lie = lye. Lye is caustic. causality. causal. There's a verbal sense here that's difficult to explain. In Hinduism there's a 3 body model of a person. Their gross, subtle, and causal bodies. The gross body is easily explained as the physical body. The Subtle being emotion and mind. And Causal is like their soul.
I personally like to think of the Causal form as a mote of dust, which a water droplet forms around in a cloud and then rains to earth. The rain drop being the subtle emotional body. And then it's all together on the earth. Separating to form a cloud again and continuing a cycle set in motion by spirit, gravity, whatever.
My theory for how the corrupted gems will be restored, is to return them to the ground. It's interesting, the Gems exist as a different arrangement of these 3 bodies. Their bodies are constructs of light. Their subtle body their actual gem. And their causal body, I guess, is their place in the world. Steven/Rose/Pink Diamond can use their "spirit power" to heal their subtle body - cracks in their gem. But so far, not their corruption.
I could be completely wrong about this as the show progresses. In the current season there's a White Pearl who used to be pink and her light body, not her gem, is cracked. My guess is that she'll reset after "poofing" which will somehow inspire the solution: If retreating back into their gem can fix their body. Then returning their gem into the ground might heal their corruption. I have some explanations for why that hasn't been tied yet, ask me if you want.
Another Steven Universe Theory that has yet to be confirmed is the nature of Gem Harvesting. If the idea of eating jello or using glue made from human parts is disturbing. Then imagine what a society of Gems think about fusion and "recycling". Like Pink Diamond is the equivalent of "pink slime" from meat factories that grosses people out so much they become vegans.
How did Pink Diamond make Steven anyways? Why is Pearl grossed out by food? Why does Onion's "food abuse" bother Steven?
It's all revolving around a theme.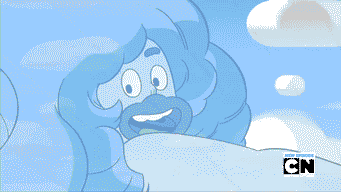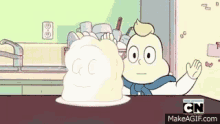 Go all the way back to Season 1. The episode that really setup Steven Universe and gave it depth. Before we knew anything. Before we knew there were other gems, space invaders, sucking the life out of the planet.
There was Frybo. A food mascot come to life, animated by gem shards. It had a body. It had intelligence. But it was empty inside. A soulless monster, following it's orders to "Make people eat fries"
There's so much food idolization in this show. I'd like to list them all. Like how Steven's Cheeseburger Backpack functions like Rose's Lion and Pearl. A container or vessel, for food, made out of "
food
". The themes from the first season have been repeated consistently up to now.
Idk. Maybe this whole food & spirit thing is easier understood by Christians who do communion. You know, the body & blood of Christ represented as bread and wine. I could mention gnositism too, but that's probably more obscure and arcane.
I think inevitably the show will circle back to a reenactment of The Lunar Sea Spire episode. Steven's first misson with the crystal gems. He relies on his cheeseburger backpack to the top of the spire where he's suppose to put a crystal idol in a moon beam which will repair the tower. Instead of the idol he uses a talking doll, Mr. Queasy. And the spire collapses.
Now the show has taken Steven to a broken gem homeworld. Homeworld being analogous to the Sea Spire. What's the analog of Mr. Queasy? I think Steven is corresponding to the proper idol.
Note the corresponding eye wound between lars and frybo.
Frybo was lacking a soul, Mr. Queasy was lacking a gem, and I'm willing to bet white pearl doesn't have a mind of her own.
Corresponding to these 3, will be Connie Lars and Steven. Mind, Soul, and Body bonded together in Spirit. Restoring homeworld, letting it collapse, or forming a new symbiosis between Gems and Organics. I can see it how it might work out a number of different ways.
I say that. But there could be greater mythological significance to White Pearl's eye. But I'll save that for another post.