Look at both of the spoiler tags before you read the space inbetween...
The Original
Sorry, I should have explained more. This is the original piece in which I had to cut her out and create a background using my photoshop abilities. This is something I decided to experiment with because I'm typically horrible with backdrops. And then I altered the picture in select places and changed the color on her bracelet. However, my ulterior motive was for her to see my talents as a freelance graphic designer and for her to funnel more work to me. And "Phoetic Imagery", I assume took the pictures, was on the original. so I decided to include the name onto my version... um... i hope that answers all questions...
The Redone Version
Well with that out of the way... I shall now post... what everyone knows me for...
So this is the idea for the new design specs of the battle characters... done in illustrator for easy animating and more fun, this image below displays the emotes that will be in the battle system... I believe these characters will work better for several reasons.
1.) Since this is a "Anime" Style game, i believe this look on the characters will draw out more of the "anime" style to them.
2.) I don't recall seeing any "battle characters" being done in illustrator, so that will make this unique to Samurai Ragnarok
3.) Vectors are FAR more forgiving that pixels (IMO)
4.) This relies more on my artistic talent to draw characters, thus allowing for smoother animation
5.) The body parts are interchangable... allowing for quicker animations to be done
6.) ETC... (lol)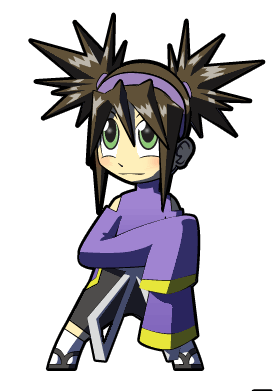 so with this i post two things... Samurai Ragnarok isn't dead... and two... what other emotes should i have...?