Little King's Story is an original title designed and developed by some of the most respected names in the gaming industry. Featuring the efforts of Yasuhiro Wada (Creator: Harvest Moon), Hideo Minaba (Art Director: Final Fantasy XII), and Youichi Kawaguchi (Main Programmer: Dragon Quest VIII), Little King's Story combines life-simulation, real-time strategy, and adventure elements along with an enchanting storyline to offer a unique gaming experience.
gamestop wrote:
An original new game built from the ground up for the Wii by a seasoned development team.

Accessible Controls
Give commands and control your townspeople to a wide variety of tasks with ease.

Have your townspeople dig for treasures, build new buildings, and break obstacles to access new areas all in the name of bettering your kingdom.

Each NPC (Non-Playable Character) in your village is unique with individual likes, dislikes, and evolving memory based on daily experiences.

Any good king puts the welfare of his subjects before himself, so help your villagers by accepting some of their requests.

Unite the surrounding rival kingdoms under your flag to become the best king of the world!
gamestop wrote:
Once upon a time there was a young boy named Corobo. He was a shy, withdrawn boy with few friends. One day while wandering the forest near his village he came across a crown infused with a mysterious power; the power to charm any person and make them follow any order. At this time an adventurer, the bull-knight Howzer, appears and informs Corobo that he is now the king of his village and that it is his responsibility to become the best king ever.

Corobo then returns to his village to begin his efforts to turn his sleepy little hamlet into the best kingdom ever.

Hi, Im adorable and I'll be your next king.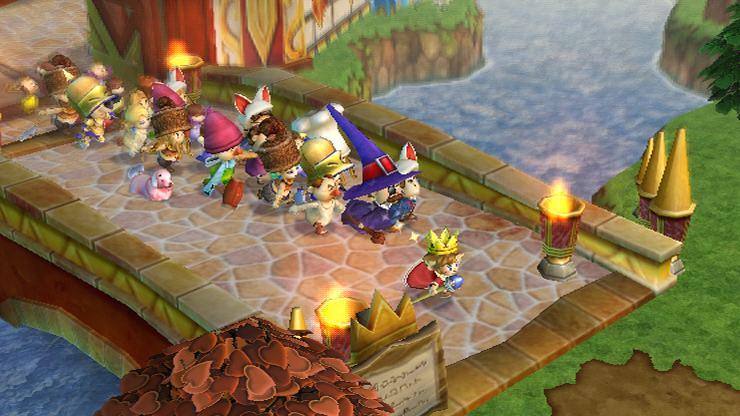 yes, you too pink doggy sir.
A nice, quiet, rural village
O...O...Oh dear.
(tbh, I have know clue what is going on)
The royal grounds
Trailer
[ Embedding has been disabled for security reasons. To access this file please click: http://bb.ohsk.net/uploads/Movie_00011.swf ]
I dont have the game, but it sounds good from what I;ve heard. Thoughts and opinions? Does it look good or not? Whatever you want really. :D
Just post something please. ;o;