The Basics of Frankenspriting
Frankenspriting isn't a difficult thing to do, but it can feel overwhelming at times, especially if you have a lot to do and not a whole lot of time to do it. First and foremost, it's important to visualize what you want the character to look like. Then comes the great hunt through resources to find the pieces you want, and lastly stitch them together. There are not that many steps, but sometimes it can seem daunting, especially if you don't plan ahead.
It's important to have a mental picture in your head before you start. Just diving into your resource collection is all well and good, but doing so and hoping for inspiration to strike doesn't always work. In fact, I can guarentee that you'll be so bored after the first cycle through, that you'll just ragequit.
Visualize what you want in your head!
Once you do that, stay focused on that mental image; there's a number of ways you can do this, from making quick notes on Notepad, to just doodling it out on a piece of scrap paper. Once you have everything you need, then you can cut out the pieces you need and paste them all together on a template.
A few tips before beginning:
* Know what you're going to be using the character for. If the character is only ever going to be seen from the side, you don't want to go through the effort of spriting all the other directions.
* Know what template you want to use ahead of time. I know that sounds like a no-brainer, but I can't tell you how many times I've decided to swap templates half way through spriting.
* STICK TO THE CURRENT CHARACTER YOU'RE WORKING ON. It's nice to get ideas while you're browsing through your resources, but you don't want to lose sight of what you're doing right now.
For this part of the workshop, we're going to use a lead character idea for a story idea for RMXP I'm playing around with. Our main character is a young woman with shoulder length hair wearing a short-ish dress. We'll be using the RTP template for this, as it's the most common.
First we start by loading up Paint Shop Pro 9 with our template. You always want to start from a blank template, so you don't accidentally end up with anything you don't want.
Next, we hit the resource collection and dig out what we want to use for our heroine's hair and dress. It helps to make several passes, with only focusing on one part of the character design at a time. For this sprite, we're going to use the hair from the the blonde sprite and the outfit from the blue haired girl.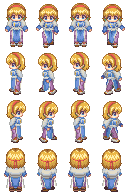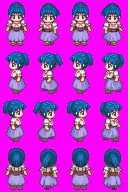 As a personal note, when you go about collecting resources, it helps to actually make note of who does what in the file name of your sprite, so you know who to credit later. Don't just go on random saving binges like someone that shall remain nameless...
Obviously this will be a really simple sprite. This is a workshop, we don't want to go too crazy. Once for a sprite I had to combine two different hair pieces, ears, a shirt, sleeves, pants, boots, and a cape, each from different sprites. Needless to say, that got a little crazy.
Step One
Before you do
anything else
, select your template that you should have open in PSP9, go to the file menu and select Save As. Save the file as something different, so you don't accidentally save your main character over your template file. I know, it's a stupid thing to do, but accidents happen.
The Real Step One
Let's do the hair on the front view first. Take your selection tool and highlight the hair on the blonde sprite.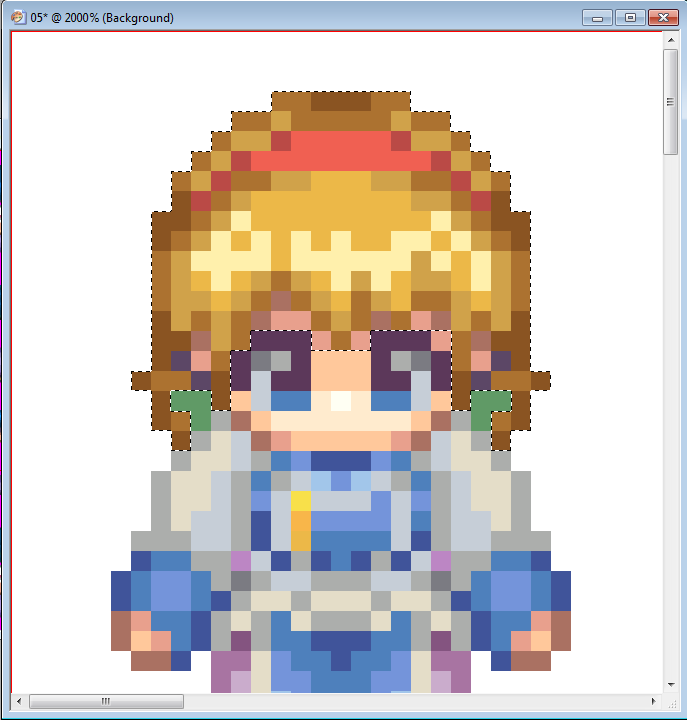 I'm blind. Hopefully you don't need to zoom in this much.
You'll notice that I didn't just highlight the hair, but I also highlighted the shadow on the skin. This just makes life easier, and also gives you a reference point on where to paste the hair on the new sprite. Press Ctrl+C to copy the image part to the clipboard. If you are using PSP9, select your template image and press Ctrl+E to paste into the image.
For some weird reason, this is happening, and it isn't supposed to. I think it has something to do with the fact that I'm on Windows 7 64-bit, so the program is being a little wonky. Just keep in mind that this can happen, but it doesn't really matter, because we're going to be using layers to sort through the different sprite pieces anyway.
If you're using Photoshop (BAD!), the program puts the paste on a new layer automatically, but if you're using PSP9, it'll come up as a floating selection on your layer list. Right click the floating selection on the layer list, and select promote the selection to a new layer. Then you can erase the white before positioning the hair if this happened to you.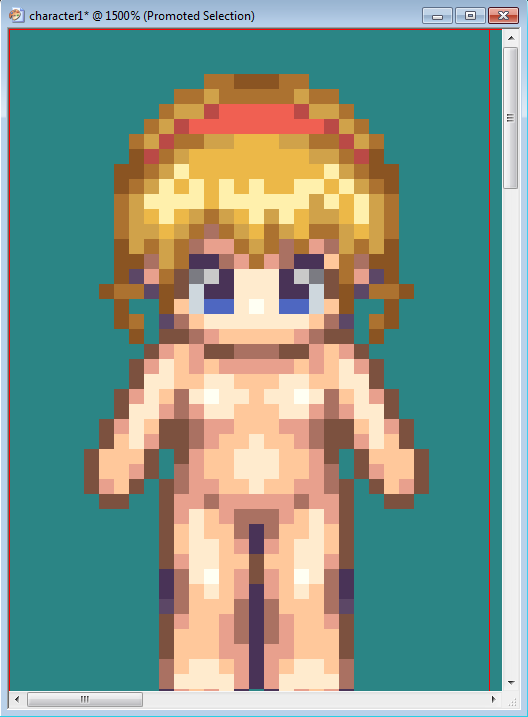 Obviously you're going to want to fill in anything that turns up blank, but we'll do that later. Also, because the hair doesn't move, you can copy it over to the other front frames of the sprite.
Now, normally you're going to want to do all the hair for the various poses before moving on, but for now, let's move on to the next step.
Step Two
Like with the hair, let's copy over the dress from the other sprite. Be sure to promote the dress selection to
ANOTHER
layer; don't put it on the same layer as the hair. You're going to want to do this, even if you don't have issues with transparency.
Step Three
Now, do the same for all other poses of the sprite. Remember to only copy over what you need, and to keep the dress parts on their own layer, with the hair parts on the other. Do not put anything on the bottom layer for now. Also, because the hair doesn't move at all, we only need to copy over one frame for each pose. This will be the end result: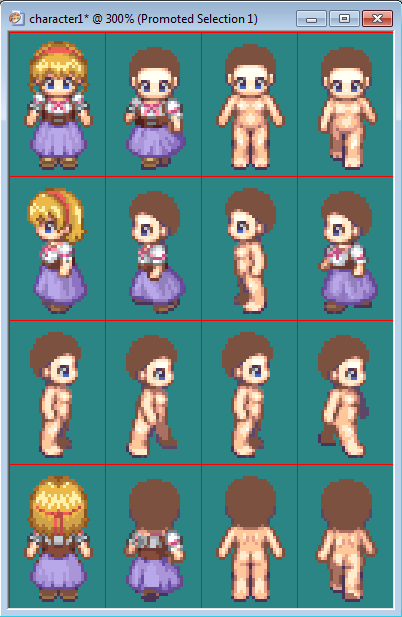 Obviously if you have hair that sways with the sprite movement, you're going to want to copy over those frames as well.
Step Four
Fill in anything that doesn't cover the template and is supposed to. In best case scenarios, you won't have that much to fill in, or you'll have very little. Keep in mind that sometimes you can end up with a lot of weirdness, and you may have to guess and test what should and shouldn't go there. While you're at it, you also might want to get rid of things that you don't want, like the tie on the back of the head in this case.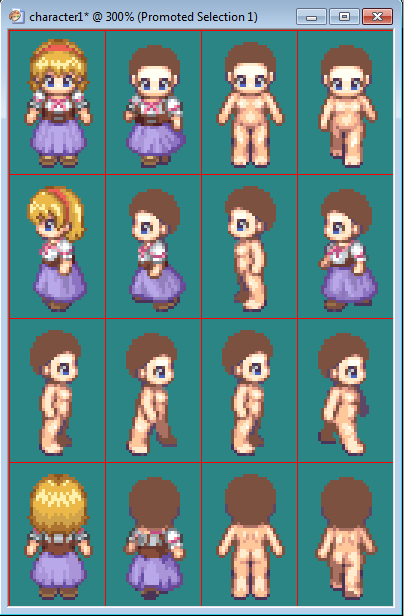 Step Five
Recoloring. You don't always need to recolor, but you don't always get lucky and end up with the colors you want when you go fishing for parts. For this sprite, I want to change... well, everything; she'd look better with red hair and blue dress. I'll keep the pink ribbon, and make the hairband the same color. Now you're welcome to make your own pallets, or you can just be lazy like me and save a whole bunch of them. I forget where I got all my pallets from, but you're welcome to download what I have.
Download Pallets
Okay, since the headband is already red, we're going to recolor that first, then the rest of the hair. You might want to make your recolor work on another layer, that way if you don't like it, you can just delete the layer. Remember if you do it this way to make a separate layer for each part you're recoloring, not just a separate recolor layer.
Best way to recolor is to start from the inside, and work your way out to the darker colors.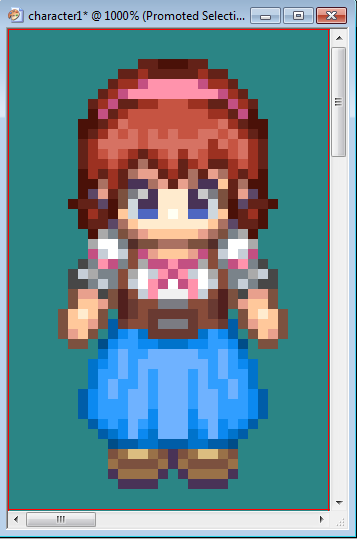 If your satisfied with the colors, then fill out the rest of the sprite.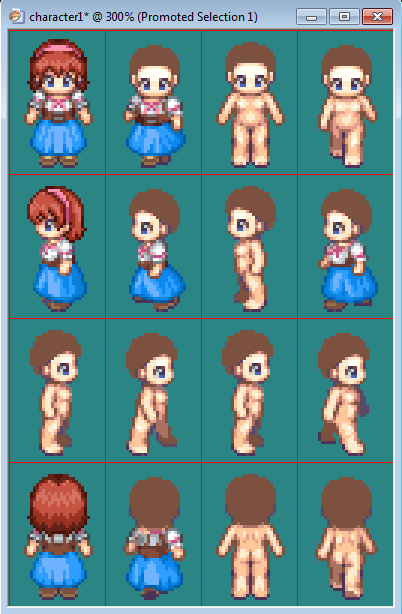 Step Six
Now all that's left is to copy over duplicate parts, inverting and mirroring as needed. For the second idle frame, as well as the right facing direction, it helps to have flattened all the layers, and then copy, paste, and mirror as needed.
And done.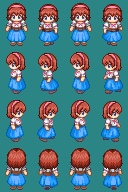 By using these steps, you can create an endless number of combinations for an endless number of characters.