I finally got around to previewing the battle animations. Because it uses a particle engine the animations aren't identical. But the SE still play by frame numbers. I'm not sure if the particle burst generate at a precise timing or not, but it sounds a little off.
I know with the Earth_All animation the rocks are suppose to disappear with a Sand SE, but the timing is off by like 30 frames.
The animations are, again, recreations of previous makers. And it's kind dumb. Previously the effects were limited to the cell size of animation sheet. So the Water_All animation appeared as 3 waterfalls in a row. MZ + effekseer shouldn't have that limitation. But the Water_All animation in MZ is still 3 streams of water.
There's a lot of magic circle animations, but they're tilted on a different plane than what the battle backgrounds suggest. I can fix this in Effekseer but it's kind of annoying.
Here is some more things other people have found.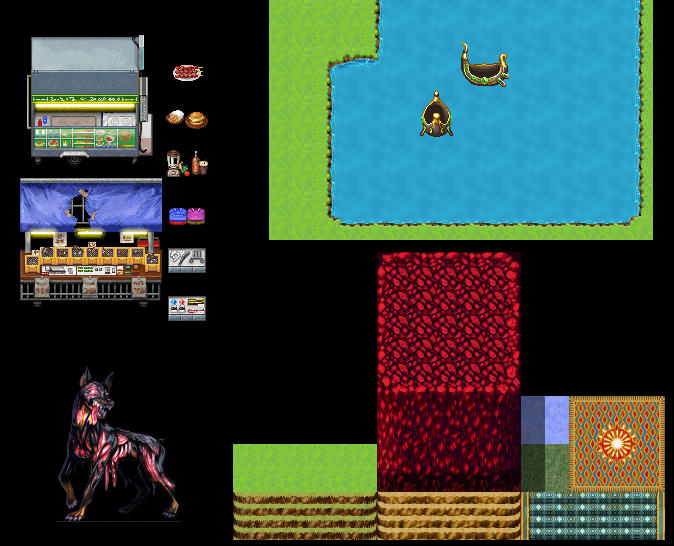 Scifi outside tileset has a number of issues. The food and shop stalls in MV had trays you could swap out with other tiles. MZ seemed to just mindlessly recreate tiles with no clue how they go together.
There are grass and dirt stairs but they don't match the other tiles. Pretty sure the Crimson Demonic earth should have stairs.
There's carpeted stairs that don't go with anything, I think I mentioned this before but I feel like I should also point out that this is suppose to be an "outside" set and carpets are generally interior things anyways.
The Zombie Dog has a line artifact in both the Frontview and SV versions. It's really only noticeable on dark background.
Some of the vehicles have an inconsistent bounce animation. Up and Down in one direction, but side to side in another direction.
This fancy canoe isn't really sitting in water, or have ripples like the other ships. I suppose it could be a magic flying thing for up in the clouds maybe? But in MV the corresponding vehicle is a log raft with a sail.