It's: Useless Insights With Coyotecraft
I discovered Emily Carmichael on youtube. She was the (a?) screenwriter for Pacific Rim 2, and before that she was known for doing these pixel sprite films. Anyways reviewing her writing process "Intrinsic Motivation" is like her mantra, which she says is the heart of drama. She starts with that and spirals out, building a plot around it. I've been doing the opposite. I have a plot and I try to spiral-in to find the character's motivation.
I don't think my process is wrong. I'm stuck trying to find a good beginning. It seems to me that going the other direction means looking for a good ending. And for career writers, not writing a proper ending is acceptable *cough* hacks *cough*
I mean, they can always say "the rest is another story" and keep the audience hanging and desperate for more.
Her Adventures of Ledo and Ix is really interesting to watch. But nothing gets resolved. And it just stops at episode 10 never to be concluded, it seems. You could say that's the theme. Because they're RPG characters living in a glitched/uncompleted game world and they only have each other to offset the existential dread.
But that's just my rationalization; it's complete because it's incomplete. Even thought they show rough drafts for another episode.
I have a small-big problem with generating a story from a character's intrinsic motivation, which has to do with spin off stories
but I'll get to that. This is how I'm picturing it: The story manifests where the character's motivation intersects with the plot.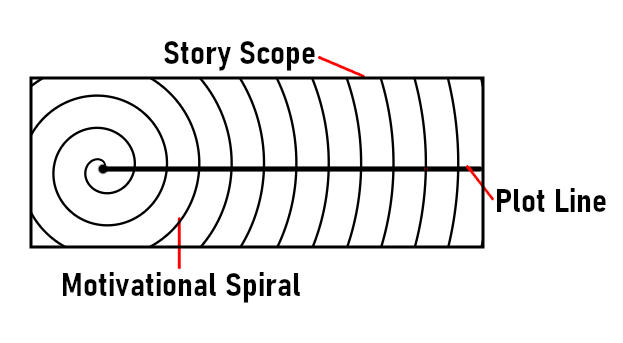 You can think of the intervals or intersections as the key scenes that make up the story. I want to say the story is their world manifested. Or that they manifested their own destiny. 2deep4u? Maybe it should look like a logarithmic spiral that's closer together at the start then wider apart at the end because there's less meaningfulness to observe? Or more meaningfulness. Guess it depends on how you want to look at it.
Now I want to get to a theory of constructing spin-offs and gaidens (side stories) that follow alternative support characters. Now most reasonable people would just create an independent story and graft it on/in to the source material. But I've been looking for a method where the source material manifests everything, including the character motivation. It would be so much easier if I just threw darts at a board and ran with it; but I'm doing it this way. Because I am.
I want to create a hypothetical story that touches on the source material. The character needs intrinsic motivation to inform the scenes. I don't know what that is, but I want to get there logically based on what is already known in the source material and then reaffirm it. I want it to create itself, or feel like it came into being own it's own naturally.
Now this whole spiral schema thing I've just made up today. But I think I can use it to partially express my process from the past year developing a fan game.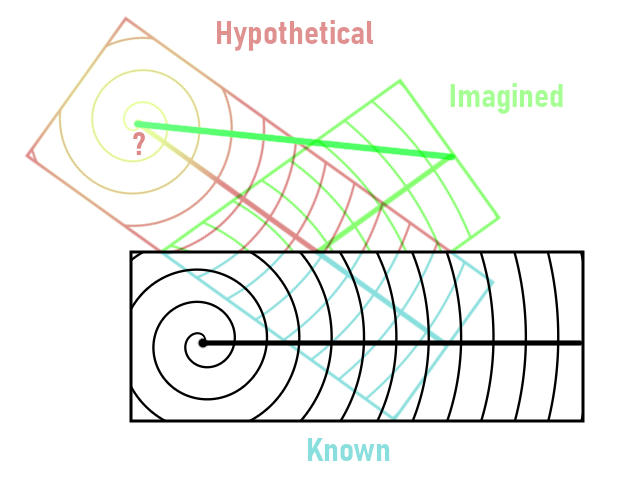 It's really simple. I just took what I know from the source, imagined an alternative series of events, and that alternative future kinda-sorta informs the past which steers this hypothetical story explaining why things happened the way they did.
The question I'm asking myself is if this alternate future is extrinsically or intrinsically motivating. Or how to make sure it creates intrinsic motivation. I think that's what I've been struggling with.