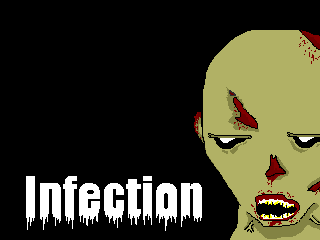 Infection 2010 ART 100% ME©
INFECTION DOWNLOAD
(RTP IS NOT INCLUDED)
RPG MAKER 2000 RTP DOWNLOAD
---------------------------------------------------------------------------------------
STORY:
The year is 2010, and the United States is at war with Middle Eastern terrorist groups. For the most part the engagement had been a stalemate, each side gaining nor losing any territory.
That was until the terrorists decided to hit USA home soil once again, and this time end the war for good...
Using devastating biochemical warfare, every major city, military installment and agricultural site was hit.
Although structural damage was minimal, an airborne infection began to spread very quickly from the areas that were targeted...
The symptoms were like that of the flu, high fevers, coughing, vomiting, and the general weakening of the body. It was also highly contagious. It wasn't long before the USA began to fall apart. Hospitals were overran with sick patients, farmers livestock had all perished, which led the markets to fail. And even the military bases were facing difficult problems containing the infection from spreading, even within its own ranks. There seemed to be no answers, and no cure...
But the worst was yet to come...
It was roughly one week before those infected began to show enormous amounts of hostility towards family, friends, and strangers alike. And just like that the United States of America was brought down from the inside, it's own residences murdering each other out of unexplained rage.
It's been five months since the infection...Those that weren't infected or killed within the following days of the attacks have held out and survived in the cities, towns and rural areas however they can...
Now follow the story of three survivors as they try to make their way out of Manhattan, and reach the safe zone on the outskirts of the city...
SURVIVORS/CHARACTERS:
Ryan Shepard- Age: 26
A fresh N.Y.P.D officer, Ryan was sent to help with what was thought to be riots in the lower part of New York when the infection first broke out. After the unprepared police force was overran, Ryan fled to the hospital to pickup his fiance, Michelle, a nurse working at the time. Ever since then the two have been surviving together on the move, mainly staying alive through the quick thinking and strong will of Ryan.
Michelle Myers- Age: 24
A nurse at the Southgrove Medical Hospital. When the infection first began in New York the hospital was flooded with assault victims and people with severe symptoms of the flu. But when the hospital was locked down because of a bio-hazard threat, Michelle was stuck on the inside .It wasn't long before the hospital was a bloodbath.
Luckily for Michelle her fiance Ryan showed up just in time to get her out.
Adrian Kessler- Age: 31
Ryan and Michelle don't really know much about their Russian companion, other then he is a mechanic. He doesn't speak much, and when he does, it's important.
SCREENSHOTS:
CREDITS:
A BIG THANKS TO CHARAS-PROJECT!
--If you have any problems post or send me a message.--