Greetings my ghoulish brood of game making brethren. HBgames would like you to remember that while you enjoy your holiday season, there are those less fortunate who need our help. Help us help them.
This is Vladimir Dracula
Seven years ago today he found out he was HIV positive and now as a result federal law has taken from him his only livelihood, harvesting blood for the Red Cross. But that unfortunately turned out to be the least of Vlad's concerns. Despite being 587 years old and an American citizen, Vlad's official death certificate dating back to 1476 disqualifies him from being able to collect his medicare insurance benefit leaving him penniless to fight the onslaught of his illness. But Vlad is not alone. He is one of thousands of HIV positive vampires abandoned by society and forced to suffer in marginal squalor. They are jobless, eaten away by longing and hunger, and in need of support and medical care.
For just a small one time payment of fifteen dollars Hbgames.org will see to it that Vampires like Vlad receive quality medical treatment, housing, food, and clothing. For just the price of a meal for two at a cheap restaurant Vlad and vampires like him will receive a year supply of anti viral medications, a dungeon to rest in, a small AIDS colony to terrorize, and a set of clean capes and 19th century Sunday suits.
Vladimir Dracula is not the only monster in need of our help this holiday season, however.
Meet Roph Bark Snarl Bark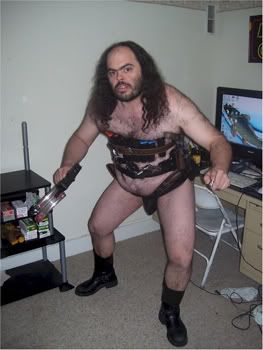 He is one of many animals suffering from a condition known as Reverse Lycanthropy, a disease where during the daytime wolves turn into humans and are forced to leave their pack to live among the hideous primates. He is a stunted shadow of his former self groping about desperately hindered by his new found limitations in sense and movement. Like Vlad he too is orphaned by society, shunned for his lack of clothing and incomprehensible growling. Roph Bark Snarl Bark is an adult with no marketable skills, no education, or language to speak of. He is unused to the subtleties and rules with of a human culture. When a woman bends over he tries to mate as he would in the pack and is surprised when he is arrested for rape and is forced to live as a level 2 sex offender. Now Roph Bark Snarl Bark must visit his parole officer regularly and is barred from attending many day school programs because of his registration as a sex offender. Roph 28 human years old and he can't read his name off his parole signature card. Roph is to clumsy for manual labor, unqualified for clerical work, he can't even be a lab specimen since he is not representative of the human population. He can do nothing but beg for our help.
Your fifteen dollars will see to it that Roph is given a quality education. He will learn important life skills and the benefit of wearing clothing when he is in his human form. He will learn language and eventually be taught to read and trained in Accounting or IT Administration so that he can make a life for himself in this confusing human world.
Please,
Anonymous
help us help unfortunate Were (prounounced wer) Wolves like Roph, and all the other unfortunate monsters of the world. Donate for a sponsorship today. And have a Happy Halloween.
---
Now Wyatt's TWODO
THIS WEEK IN AMITYVALE
This town, aah, is looking like a ghost town, aah, with all of the new members around.
Zatun_Jai
bbatche3
FFXI_Immortal
...are new to the forums. Ok, not as many as usual but hey, they all joined last week!
Minor note -
boon
is no longer a moderator. Sad to see him go, wish him luck wherever he OH GOD A GHOST IS ATTACKING ME HE STOLE MY CANDY THIS IS VERY ERM... BAD? IDK, I LIKE CANDY AND ALTHOUGH IT IS OUT OF MY JURISDICTION I THINK THIS GHOST IS QUITE THE KIDDYFIDDLER
FORUM RESHUFFLE
Oh dear this is scary, some of the forums are moving, ALL BY THEMSELVES as if they are idk, ALIVE or something.
There are now dedicated boards for Game Maker support and discussion, and "other" game making programs.
You can find the new boards in a category below the RPG Maker boards but note that their exact location will be changing soon to make it more logical.
Also if you haven't already you might want to check out
the Beginners' Lounge
!
VIRAL NEWS
Those who follow IRC and the Feedback forum will know that something good is happening soon.
Good thing. Big thing. Thing lots of people want. So yeah, should be cool. If you don't know what it is then you need to IRC more ;)
I.e. irc.slacked.org #hbgames - if you don't already have an IRC client check my sig for a web chat link!
GAME MAKING
It's somewhat odd for a General Support topic to feature here, but I thought the issues raised in
Terms and Agreement for Commercial Games?
needed mentioning. It's asked a lot and the answers given are pretty useful to a lot of people!
WHAT DO YOU WANT?
There's a lengthy topic in feedback at the moment, and
so far every request has been filled
which is pretty cool. If you have
any
ideas for the site let us know, and we'll see what we can do!
GAMES
A new project this week is
Wind's Nocturne, by RobinP
. It looks promising and a lot of work has been put in! Also it doesn't use the RTP which is good :)
HALLOWE'EN CONTEST
It's not much but it's out of my own pocket, so if you wanna win $5
check the contest thread
.
CORRECT WAY OF WRITING THE LETTER 'A'
IMO,
this thread could be promising
if we turned the direction into a discussion about handwriting etc in general...
RELIGION
You might want to check out the
JBristianity
versus
Whynotology
debate. It's the most heated religious argument since Auschwitz!
Don't sue me please.
It looks like JBristianity is winning, alas...
SCARY IMAGE OF A GHOST
Oh god...
SWEET TRANSVESTITE FROM... TRANSSEXUAL... TRAN SYL VANIA
Someone made a Symposium topic about
Transsexuality. Wonder who that could have been
Also, is
ADHD overdiagnosed?
STATEMENT OF THE WEEK
Don't you think Michael McShane looks like he could easily be a DeLouise brother?
SCARY STATEMENT OF THE WEEK
Arbiter is a ghost.
Well, I heard he raped one once.
Well, I heard he raped someone once. And killed them. And now they are a ghost.
EGO SEEKERS UNITE
What's your speed?
CHRISTMAS
Here's an interesting one -
what do you want for Christmas?
Gumbo posted his Christmas wish list for gaming... what's yours?
COMMERCIAL GAMING
Venetia started a thread for Machinarium
which sounds intriguing! It's a puzzler/adventure game.
NEW RPG MAKER
Any Nintendo DS users?
tgman posted a thread about RPG Maker DS
. Certainly news to me!
SPOOKY GOODBYE
Goooooood
byyyyyeeeeeeeeeee
Muahahahahahahahahaha