There are totally gardens on top of skyscrapers, probably with trees. I decided a while ago that a lot of these greenspace areas are now full of squatters who cultivate food on them, so maybe there are a few abandoned skyscrapers that are really overgrown now with big trees and stuff. That would be cool--an overgrown post-apocalyptic feel.
As far as materials go, synthetic wood is probably widely available, but this place would probably use real wood. That doesn't make it extra expensive, though, really. But the entire world isn't covered with cities or anything. I figure most of the world's population is concentrated in cities, which have become extremely condensed with things like arcologies rather than spreading out tremendously in terms of area.
The greenspace thing isn't so much a class division as it is the direction architecture is actually moving, but now that you mention it, it totally works as a class division as well. I've been playing with the idea of having some areas underground or inside big arcologies, which would totally play up the contrast if my rich areas have huge windows and sunlight and plants everywhere, so maybe I'll do that. If space is at a premium, then it makes sense that the arcology would be the low-class area if the goal is to cram as many people inside as possible, since most of them wouldn't have access to windows.
In general, I'm trying to think about what the future might actually look like and avoid generic cyberpunk aesthetics, but they'll probably creep in anyway. See the last tileset I did. The street view in the downtown area will have lots of greenspace and white and vegetation around. There might be a more cliche cyberpunk industrial feel in the industrial area, but I'm not really sure yet what I'm doing for exteriors.
Btw, the hex windows with the vines were inspired by this: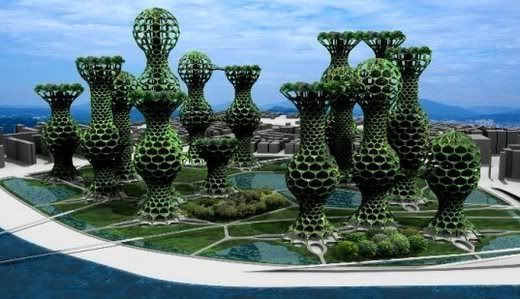 This is a thing proposed to be built in Seoul. I have several folders full of sweet real-but-futuristic architecture that I'm drawing inspiration from. May post more pics.
Re: egg chairs, I tried some cylinder couches, but they looked funny, so I got rid of them. I'm gonna do some futuristic furniture for sure, though. I might move the current chairs into the industrial area or something.
Also, thanks for your questions! You're really helping me figure out some worldbuilding stuff, so by all means, keep asking. Man, I'm glad I made a thread for this instead of just posting it in WIPs.